Power Plant Feed Water System
Background
This study involved the feedwater system of a 600 MW Power Plant in China. The feedwater system supplies high-pressure water to the boiler during startup, normal, and emergency operation.
In this system, water is pumped from the bottom of the water storage section of the deaerator. While some of the water is distributed to the attemperators, the remaining water passes through three high-pressure heat exchangers, and arrives at the economizer.
There are three 50% capacity parallel-pump sets. Normally, two of them are in operation, and one is running at low power on standby. Each pump set comprises of a boost pump and a feed water pump. A bypass line returns to the top of the trayed section of the deaerator, so that pumps on standby can maintain a minimum flow rate when the valve is closed downstream of the pump. For the purpose of this exercise, the rightmost pump set in the diagram is on standby whilst the other two are in normal operation.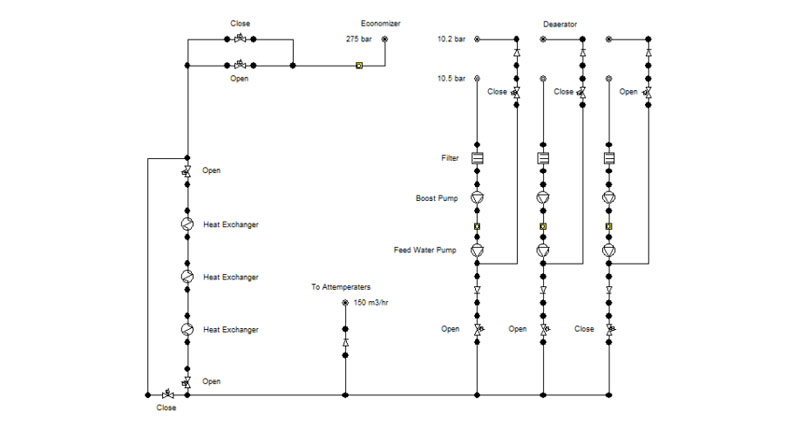 Other PIPENET Power Industry Applications
PIPENET – Caesar II Interface
Steam Hammer in a Main Steam System
Power Plant Air Cooling Water System
Power Plant Feed Water System
Water Hammer in Nuclear Plant Cooling Water System
Steam Hammer in a Main Nuclear Steam System
Steam Hammer in a Main Nuclear Steam System with Globe Valve
PIPENET – Pipe Stress Analysis